Bermuda is Swizzlin' Country!
Two great Bermuda locations for grub & grog: The Swizzle Inn Pub & Restaurant on Bailey's Bay, and The Swizzle on South Shore.
Winter Maintenance has commenced! SOUTH SHORE Swizzle CLOSED Mon Jan 19th and RE-OPENING FRI Jan 23rd at 5pm...just in time for Happy hour! BAILEYS BAY Swizzle will be CLOSED Mon. Jan 26th RE-OPENING Fri. Jan 30th 5pm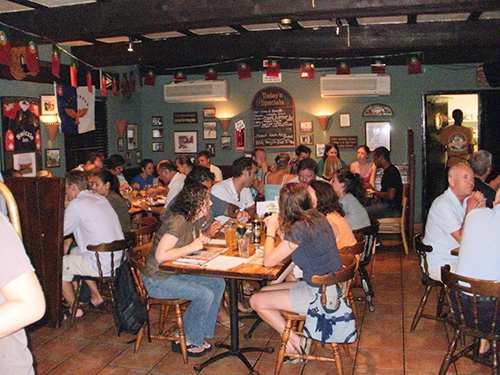 Upcoming Events
November Absolut Awesomeness Promotion
South Shore Trivia Night
April 6: Eat Drink and Think! Trivia has come to South Shore Swizzle! On the first Monday of each month we'll be having the Quiz Night!! (call 236-7459 to confirm which Monday if you are not sure) Mike Bishop hosts a great evening of General Knowledge trivia questions. Lots of prizes, cash, liquid libations, t-shirts and vouchers! Get a team together and join the fun!
Random Swizzle
What's There To Do Nearby?