Bermuda is Swizzlin' Country!
Two great Bermuda locations for grub & grog: The Swizzle Inn Pub & Restaurant on Bailey's Bay, and The Swizzle on South Shore.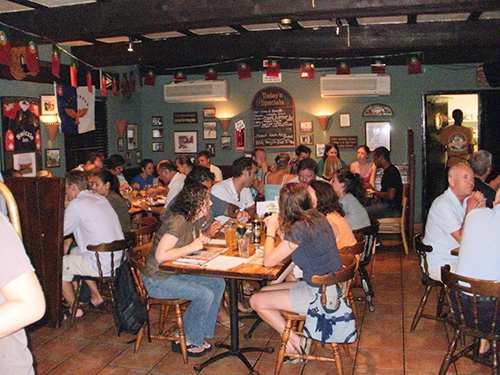 Upcoming Events
Summer Entertainment Schedule
May 1: Thursday Night is TRIVIA NIGHT!!  Hosted by Bermuda's best Quiz Master, Mike Bishop...this is a really popular night for us. Book your space early...we can fill the place up quickly! Great fun with 6 rounds of general knowledge, a photo sheet, teams compete for cash prizes, Swizzle Vouchers and liquid libations provided by our friends at Gosling Brothers. At $5 a head...This is the best entertainment deal around. Quiz starts at 8pm sharp...call 293-1854 EXT 1 for reservations. New in the 2014 season is our South Shore Trivia night...the 2nd and 4th Mondays of each month. East or West, Swizzle Inn's Quiz night is the best!   Friday through Monday Ray Pasanen is here in Baileys Bay and on Thursdays at our South Shore location too! You guessed it....he is up to his usual antics of really great musical talent mixed in with a lot of laughs and maybe a few Jager shots! He starts around 8:30....     Pancho is back on the patio with the tropical sounds of his Steel Pan.This is weather permitting and seasonal...so call us if you want to be sure to catch him! Saturday and Sunday evening at South Shore Swizzle...WAYNE DAVIS is making merry with his keyboard and some great musical entertainment. He is the perfect accompaniment to a jug of Swizzles and a bite to eat....Wayne starts around 8pm.
Swizzle's Annual Rugby Bash
November 11: Hooray HooraY! The Canadian Classics are back! An so is the biggest party in the East! We have a great outside party tent and bar, great live music and tons of fun! Here are a few photos to prove it!
Random Swizzle
What's There To Do Nearby?