Bermuda is Swizzlin' Country!
Two great Bermuda locations for grub & grog: The Swizzle Inn Pub & Restaurant on Bailey's Bay, and The Swizzle on South Shore.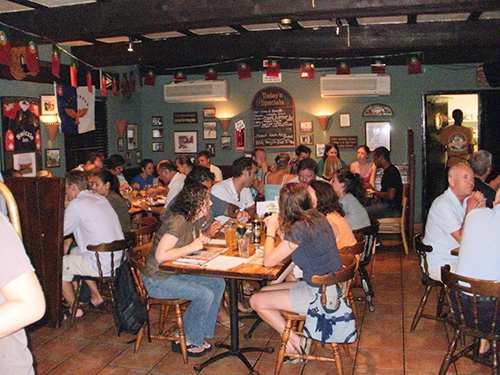 Upcoming Events
November Absolut Awesomeness Promotion
ABSOLUT AWESOMENESS!
November 3: Join us in our exciting  ABSOLUT Vodka promotion!  All of November and December we'll be offering some fabulous cocktails,shots and food specials using all the ABSOLUT flavors. Special prices and prizes too! Send us an email with your favorite ABSOLUT vodka cocktail recipe to info@swizzleinn.com and if we select yours you win an liter of ABSOLUT!    
South Shore Trivia Night
December 1: Eat Drink and Think! Trivia has come to South Shore Swizzle! On every other Monday (call 236-7459 to confirm which Monday) Mike Bishop hosts a great evening of General Knowledge trivia questions. Lots of prizes, cash, liquid libations, t-shirts and vouchers! Get a team together and join the fun!
Random Swizzle
What's There To Do Nearby?