Exciting Restaurant Week Menu is here! Bermuda is Swizzlin' Country!
Restaurant Weeks Menu
3 Courses $39
Lumpia
The Filipino version of an egg-roll, stuffed with veggies and ground pork. Served with a sweet and sour dipping sauce.
Apple and Citrus Salad
With avocado and bacon, drizzled with a Dijon and cider vinaigrette
*******************
OMG Stuffed Ribs
Homemade apple and herb stuffing sandwiched between racks of pork spareribs and cooked low and slow. Served with maple glazed baby carrots and tangy cabbage slaw.
Acadian Red Fish
Pan seared and topped with a Thai coconut sauce with cilantro and lime. Served with sticky ginger rice and veggies.
****************************
Chocolate Peanut Butter Parfait
Heaven in a glass! Layers of dark chocolate mousse, peanut butter fluff and Oreo cookie garnish!
Old Fashioned Apple Crumble
With warm vanilla custard sauce
**Please No Substitutions
**Gratuities not included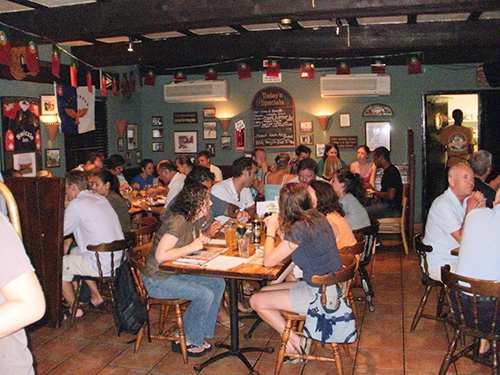 Upcoming Events
Swizzle Valentines Specials
February 12: Bring your sweetie to us! We will have cocktail and menu specials to help make your romantic Valentine's evening a memorable one! Best to make reservations...293-1854 ext 1 for Baileys Bay 236-7459 for South Shore
Swizzlinn's St. Paddy's Days!
March 17: You don't need the luck of the Irish to enjoy St. Patrick's Day around here! Plenty of green beer, Bushmills, Guinness and real deal eats! We do a great Irish Stew and soda bread, steak and Guinness pie and yes lads and lassies...good old corned beef and cabbage!
Good Friday Fun
March 25: While many places are closed on Good Friday, as Kite flying is at the top of the order for most of Bermuda on Good Friday...that and Fishcakes on hotcross buns! We'll leavbe the kitemaking and flying to you all, but will OPEN all day at both locations and of course will be having plenty of tasty fishcakes Bermudian style all of Good Friday and right through Easter Sunday!
Random Swizzle
What's There To Do Nearby?
GET THE NEW EAT OUT APP!