Bermuda is Swizzlin' Country and Our Exciting Breakfast Menu is here!
Fabulous News! BOTH locations now serving Breakfast every Saturday and Sunday from 10am until 3pm!
Weekend Breakfast
10 am – 3 pm
Pub Breakfast $17.25
2 eggs any style, grilled tomato, baked beans, toast,
Cumberland sausage, sauté mushrooms, home fries and bacon. Good Nosh!
Fluffy Omelet $10.75
Fluffy 3 egg omelets add your choice of fillings 1$ each:
Bacon, cheese, ham, onions, peppers, chorizo
or tomato with a pile of home fries and toast on the side.
Red Velvet Pancakes $11.50
A stack of yummy red velvet pancakes with a sweet cream cheese topping and fresh blueberry garnish.
Brekkie on a Croissant $12.75
2 eggs, crispy bacon and cheddar on a buttery croissant
Home fries too!
Bermy Benedict $17
2 over easy eggs atop homemade Codfish cakes topped with grilled bananas and Hollandaise sauce and home fries on the side.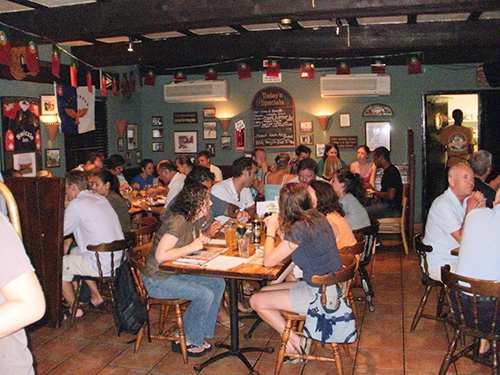 Upcoming Events
Cinco de Mayo
May 5: Ole Ole Ole! We will be offering some great Mexican food and drink specials during our Cinco de Mayo celebration. Loads of tequilia and tacos por favor!
Bermuda Day!!
May 24: One of our favorite holidays! The day marks the unofficial beginning of Summer here and becasue both air and water temps jump a good bit around this time it is the day known for most Bermudians to "go overboard" or take their first swim of the season. Both loctions will be open and celebrating Bermuda's heritage and history with some traditional Bermudian grub and grog.
Newport Bermuda Ocean Yacht race
June 17: Its the 50th Thrash to the Onion Patch! Yachts leave Newport RI on June 17th...and can be here as early as mid-day on the 19th. We anticipate lots of sailors and their familes and friends to be on island for a week full of fabulous fun and lots of rum drinking! We'll have a limited edition T-Shirt to mark the historic 50th race...shop early :)
Random Swizzle
What's There To Do Nearby?
GET THE NEW EAT OUT APP!