Two Great Bermuda Locations: Open 11am - 1am Daily
View The Swizzles on Google Maps
Swizzle Inn, Baileys Bay
3 Blue Hole Hill
Baileys Bay CR 04
Bermuda
Telephone: (441) 293-1854
Fax: (441) 293-4422
Email: info@swizzleinn.com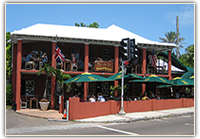 The Swizzle, South Shore
87 South Road
Warwick
Bermuda
441-236-7459
sss@swizzleinn.com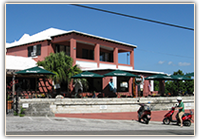 Nearby Attractions, The Swizzle Inn, Baileys Bay
Crystal And Fantasy Caves
Explore beautiful caverns, underground lakes, and simmering rock formations. Find unique treasures in the gift shop, and enjoy snacks at the café. More Info...
Grotto Bay Hotel
Beautiful beach resort with 21 acres of caves and gardens to explore. An excellent choice for fine dining and exquisite overnight accomadations. More Info...
Blue Hole Park
Offering hiking, bird watching, caverns... 12 acres of Bermuda's majestic beauty. More Info...
Bermuda Aqarium, Museum, and Zoo
BAMZ is a great family attraction featuring an aquarium with interactive exhibits, the Natural History Museum, and a zoo with creatures from around the globe. More Info...
Need Accomodations?
Check out Bermuda Accomodations Inc. They provide listings for over 90 properties all over Bermuda!
Nearby Attractions, The Swizzle, South Shore
Elbow Beach Hotel
A 50-acre resort with rooms, suites, fine dining, spas, tennis, private beach access and more. More Info...
Elbow Beach
The public portion of Elbow Beach is located close to downtown Hamilton. A great place to swim, snorkle, or kayak. More Info...
Botanical Gardens
Enjoy 35 acres of lush gardens. Guided tours are available on certain days. More Info...
Horshoe Bay Beach
A popular public beach with beautiful views, great swimming, and a secluded cove. More Info...
Fairmont Southampton Hotel
A beautiful resort featuring a wide array of restaurants and accomodations. More Info...
Masterworks Museum of Bermuda Art
Visitors can "experience Bermuda as seen through the eyes of artists". A large collection by famous artists from around the world. More Info...
Port Royal Golf Course
These world renowned links are home to the PGA Grand Slam. Book a tee time online. More Info...
Shopping in downtown, Hamilton
Downtown Hamilton offers a wide variety of shops including Calypso, Marks & Spensors, the world famous Gosling Rum, Stefanel, and many more.